"AutoCAD batch scripts" allow you to process any number of drawings with your own commands!



Manage your files to process. Keep lists, save "project" directories. Share these lists and "user-scripts". Combine user scripts to accomplish complex editing tasks. (You can even store scripts specific to each project, and retrieve them easily.)



This means you can EASILY use AutoCAD to Batch Plot your files, Batch Purge, Batch Bind, batch script anything, maximizing your PC's power to perform redundant tasks fast!



Add more time-saving batch script functionality to AutoCAD Electrical, Mechanical, and Architectural.



Batch all drawings run in a single AutoCAD session (They don't "open-run-close, open-run-close...")



"

File Renamer

" - Batch rename your DWG files outside of AutoCAD. Renumber, Append, and Search and Replace text in your filenames.

Definable "TAGS

" -

Include Dynamic Data

in your AutoCAD batch script without having to edit it every day.




Built-in,"Command Capture Utility", "Capture" your AutoCAD commands (entered in the command line) in AutoCAD script format, saving you time.


"UserSets", to "switch" between working environments quickly, very useful for those working on several projects at a time.



DRAG and DROP

files between Explorer and Hurricane. Drag single files, or drag entire directories, OR drag

file-lists

to the file queue (even file-lists generated by other software)
AutoCAD Electrical ".WDP" project file compatibility - Double-click an AutoCAD Electrical .WDP (Project) file within Hurricanes file selector, to quickly load an entire AutoCAD Electrical project into the FileQueue.



Drawing Scan by AutoCAD DWG Version - Easily search for AutoCAD DWG files that were made by a particular version of AutoCAD. (Useful for hunting down those rogue drawings on the companies network drive made in R12, that you need to convert to the latest AutoCAD version)

BATCH SCRIPT WIZARDS

- Allow you to create batch scripts quickly and easily. You don't have to know how to write a script to use them.

"

Night Run

" - allows you to create and run your batch scripts at a particular time of day or night..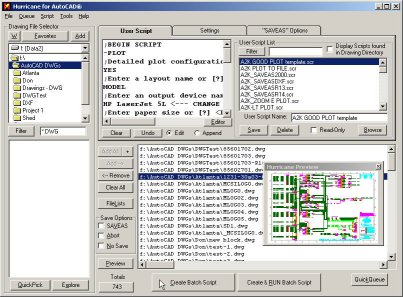 Click on image above to view screenshot
Other Considerations

Hurricane does not change any AutoCAD settings, nor will it "take control" of AutoCAD. It simply creates an "AutoCAD compatible batch script".



Hurricane is in use by all types of AutoCAD users, Architects, Mechanical & Electrical designers, Aerospace, Defence and our

free support

has been utilized in an MIT research experiment.

Hurricane is AutoCAD 'Version independent' - You can be sure that Hurricane works with future versions of AutoCAD (or any other AutoCAD alternative, such as

BricsCAD

®) WITHOUT the need to wait for an update to Hurricane.

All of Hurricane's data is stored in Plain Text files, not in clumsy databases, so you can access it in any text editor.

Hurricane is NETWORK or Locally installable (all with the same distribution files), and requires no special setup programs. Just run the setup file and specify any Network directory, and all registered users can run the executable at the same time! They can share all AutoCAD scripts, with absolutely no local installations required!

Flexible licensing options!


Hurricane (Standard

) can be licensed to your

username

(allows user to use Hurricane on multiple PC's), to the

PC

itself, to a

USB flash

drive (portable) or

Enterprise/Domain License

.


Tornado

is licensed through a floating KEY server. Users can activate and deactivate their seats as needed, and can scale-up/down their footprint as required.

Hurricane does not contain any spyware or adware.